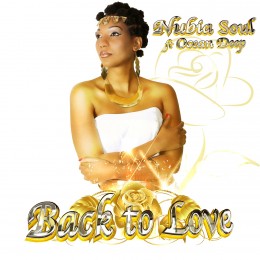 Nubia Soul – Back To Love (ft Ocean Deep)
On this song Nubia Soul she is featuring the producers from Kwa-Zulu Natal and they call themselves "Ocean Deep", the feel of the song is fun and has classic disco vibe to it and yet deep house. Nubia Soul explains the concept and the meaning behind the song as follows: "Back to love is a song that was inspired by the kind of challenges I came across as an artist and as a woman. But then when I look at how the world changed from a realist's perspective, I saw truth and that truth was that we have grown colder towards each other, we have become silent to wrong doing while entertaining narcissistic personalities. All I knew as a child was that you love your neighbor as you love yourself and that is what Back To Love is all about. Before we had borders, before we had walls devising us, we had each other and it is only love that bound us and kept us together as a nation.
I learnt the value of relationships from family and friends which allowed me to give life a chance to teach me the value of loving and being loved genuinely.