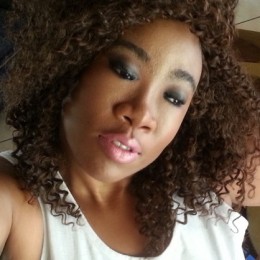 Khanyisile Zondo
Mbali Khanyisile Zondo was born in Protea Soweto on 11 June 1989 to Gerald and Sheila Zondo.
Her family then relocated to Bracken Downs Alberton where she completed her  primary and high school education
Music History
In high school Khanyisile was the lead singer of her choir for 2004/2005. She won many awards for vocal performances in her house plays and inter school plays.
In her matric year (2008) she was one of the selected students chosen to represent her school at the grahams town arts festival.
Higher education
In 2009 Khanyisile enrolled in a contemporary music course at the campus of performing arts (COPA) (Kennsington) in her first year at Copa she was selected to be an interlude act at their annual prize giving ceremony. She was also selected to be in the schools  show choir . she obtained her NQF2 and NQF3 qualifications.
She then continued her music training at Damelin College (2011) and completed her "eves Boswell" Beginners and Intermediate certificates. In Technique, performance and power singing. And an Advanced Eve Boswell certificate in performance and teachers (PMT)
She has now completed her 2 year course at Damelin and has obtained her diploma in contemporary music. As well as an eve Boswell teachers certificate
Career Highlights
In (2011) Khanyisile Zondo  landed an audition for a feature on a house compilation album. (Zar Sushi Mix) Kenny Kunene
In 2012 she Performed her feature track At Zar sandtons official closing and official CD launch of the album She went on to her first TV interview and performance on "Sunrise" (etv breakfast show) Had 2 radio debuts of feature songs (Zariya and Keys To My Heart) airing on YFM, Metro FM , Khaya FM and Lesedi FM
After Graduating she was referred to Flava (house producer) by RJ Benjamin (one of her lecturers at damelin) as a vocalist on an up coming album (2 songs) She is also currently writing original songs to pitch.
She wrote and recorded a house song with Ritual Music.
In August 2012 she did backing vocals for Noshipho Ngomezulu (Idols top 10 finalist) in a womens day show At Shikisha night club in Newtown.
November 2013 she was cast in a supporting role Which involved singing acting and dancing. in a musical called redemption. Where she played a show girl And the mother of the lead.
in February 2013 she was selected by her Dean at Damelin for the honour of performing the national anthem at her graduation for class of 2013.
Future Projects
Khanyisile has 2 feature tracks with DJ "Jus House Solo" in the works. A video with "Jus House Solo". For "Keys To My heart" A feature track that will be  produced by  DJ Classique of Mboma Music, and another original with Ritual music. She has recently started teaching vocals in private one on one lessons…
recently she has started teaching vocals and basic piano and plans to continue with that.
Khanyisile Is now a backing vocalist for Nubia Soul and Polyrythmix.
Social media