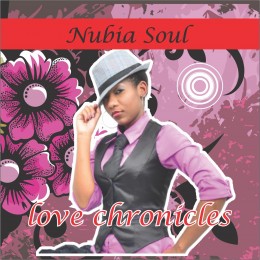 Nubia Soul – Love Chronicles
This album "Love Chronicles" is a Soulful album with a bit of reggae, house and hip hop touch to it. The concept behind the name Love Chronicles it is because Love should be details hence the Chronicles, it takes you through to the different levels of love from the initial feeling through to much more complexities that comes with love; it is more like a roller coaster ride of love from that initial excitement within your guts, to exhilaration, sadness, jealous and contentment. So in essence everybody goes through stages of love and in no particular order, but nevertheless in a personal Chronological order of emotions.
There is one reggae song in this album that talks about a guy who likes this Nubian girl and giving her praises and admiring her natural beauty, hence the name of the song is called "Nature Rising". Also there are two house songs that are about love, "Darling" and "In Contact"; House music can put people together in a dance floor, and what is a better way of celebrating love than make to people to dance and be happy?